Boats For Sale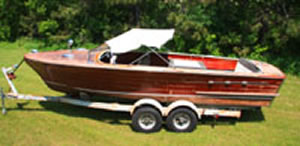 Boat needs a complete restoration there is some rot on this boat but it can be restored. Windshield is worth the asking price alone. MBL engine. Trailer is good and serviceable. Factory soft top. Boat is located here in Stillwater MN. Call me for details. Joel 651-248-7314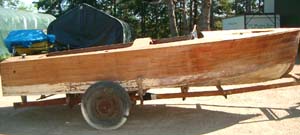 This boat is a project boat. Good for a first time wood boater. Engine is a KL. $1800.00 Call for details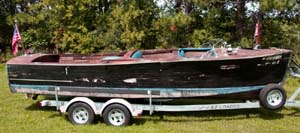 Rare project boat. Will need wood replacement. Single K engine not original to the boat. Mahogany Park Bench seats. This boat is all original and complete
$ 15,000.00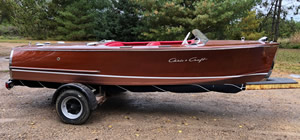 Excellent restored condition. New 5200 bottom. All new mahogany planking on decks, sides and transom. Nice new red upholstery, restored gauges, new correct wiring, rechromed deck hardware and rebuilt K engine with 1 hour on meter. Has a concealable fuel gauge installed. $39,000.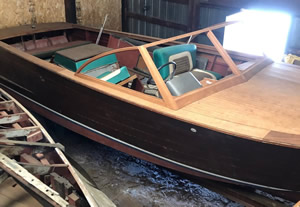 Project condition. Decks and windshield are new Mahogany wood. Chris Craft 283 V8. Interior is original to boat. $8000.00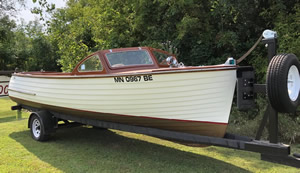 This is a great useable boat. Older restoration, Chris Craft model K engine. $8000.00. Give me a call for details .